Commercial Containers Buyer's Guide [Part Two]
Commercial containers can be mobile or stationary, nestable or stackable, rotatable, collapsible, customizable, front load, rear load, or configured for document security. They can be large, small, and everything in between. Here's a rundown of the most popular types of plastic reusable containers.
This is the most common plastic container for paper and food waste recycling.
Available with pallet-sized footprints in many different heights.
2-way or 4-way forklift entry.
Can include rotator bases to dump with a rotating forklift.
Weight capacity of 750 to 2000 pounds.
Volume capacity of 25 to 50+ cubic feet.
Requires lid to stack safely when loaded.
Nests when empty.
Options include casters, custom labels, and lids.
Examples: Gorilla, Workhorse II, Workhorse, Monster
Extremely durable and suitable for metal, food waste, paper, and agriculture.
Pallet-sized footprint.
4-way forklift entry designed to be lifted and dumped with rotating forklift.
Weight and volume capacities are typically 1500 pounds and 190 gallons.
Stacks up to 10 bins high without lid.
Customizable—can be extended or shortened to meet customer requirements.
Options include custom labels, drop doors, removable doors, casters, and lids.
Examples: MACX, MACX XT, MACX XL
Extremely space efficient for empty storage or transportation.
Industry standard where smaller capacity mobile containers are needed.
Cart style – usually 6 or 4 casters.
Plastic construction.
Weight capacities 400-750 pounds, approximately 21 cubic feet.
Nests or stacks when empty depending on model.
Some models stack when loaded.
Options include: Document Security configurations, multiple colors, special casters.
Examples: Grizzly Carts, Mobile MACX Carts, Super SafeRight.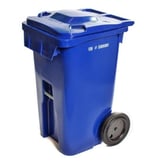 Used for document destruction, small commercial recycling and waste, residential recycling and waste.
Available in 95, 65, 35 gallon capacities.
Multiple colors.
Options include: Document security configurations.
Examples: Icon Series Carts, SafeRight Document Security Carts.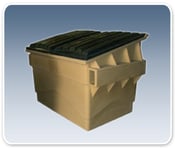 Used primarily for commercial recycling and waste collection.
Available in sizes from 2 – 8 cubic yards.
Great for corrosive waste, push-out stops, mixed recyclables.
Dramatically reduced maintenance required vs. metal containers.
Options include: Casters, custom labels, custom colors.
Examples: Bulldog Front, Rear Load Containers.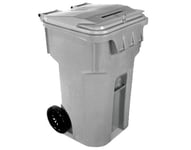 Typically deployed in office environments.
Sizes typically 32-gallons or less to meet Jayco requirements.
Mobile carts are typically from 32-96 gallons.
Options include: Wood consoles and plastic deskside containers.
Examples: SafeRight Security Carts, Personal Document Containers, Shedinators.


Save money, time, and trouble with Container Essentials(CE) because we work for you, not a manufacturer. Choose CE for independent recycling experts, the widest selection of commercial recycling and waste containers, and the expertise to help you accomplish your goals. Whether we stock, find, or create what you need, you get the right solution at the right price, and you can focus on running your business.