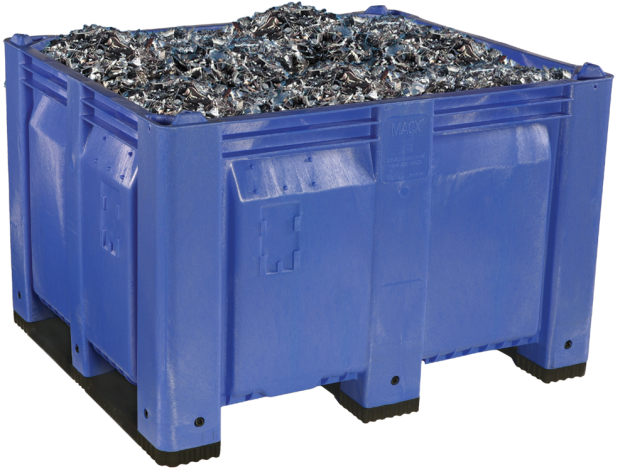 MACX Bin prices are going up May 1, 2014 due to increases in the cost of resin, but you can beat the price increase if you order by April 30, 2014.
The MACX is especially well suited for scrap metal collection. It's extremely durable, holds 1500 lbs., and its interlocking corners mean it can be safely stacked 10 high even without using lids. One of our scrap metal customers has more than 1000 MACX bins in their system.
It's highly customizable. You can specify height, width, or length, and we'll customize the bin to your requirements. Add drop doors, removable doors, drain plugs, custom lids, and more.
For paper or other mobile cart applications, the Mobile MACX is a terrific choice. It holds 1500 lbs. per cart, can be stacked for shipping, and it can be dumped with a rotating forklift.
When outfitted with stacking casters, you can ship up to 78 carts in a 53' trailer. That's 50% more carts, and 100% more payload than with Meese carts!
Container Essentials means Complete Container Solutions™ - one expert source for all types of collection containers, compaction containers, baling wire, tracking services, lift systems, accessories, and consultative support.
We're here to help Give us a call today at 866-289-9181, send email or request a quote.