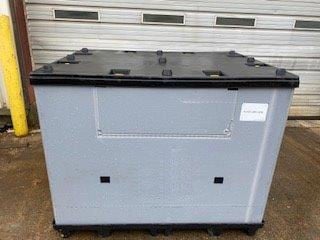 Container Essentials has 250 63x48x50 Uni-Paks in stock. All Containers are in excellent condition and cost less than 1/3 the cost of new. Contact Us Today for a quote.

Uni-Paks, also known as sleeve-Pack Containers, are a lightweight, sturdy and collapsible returnable bulk container option for companies looking for a cost effective and efficient way to move product through their supply chain.
They are a great reusable alternative to single trip Gaylord and pallet systems in closed loops, as well as a cost effective alternative to other higher priced bulk containers for applications that don't require higher weight capacities.
Need something else? Container Essentials stocks multiple styles and sizes of used bulk containers, wire baskets, metal bins, plastic pallets, and more in strategic locations throughout the country, for quick delivery and lower shipping cost.