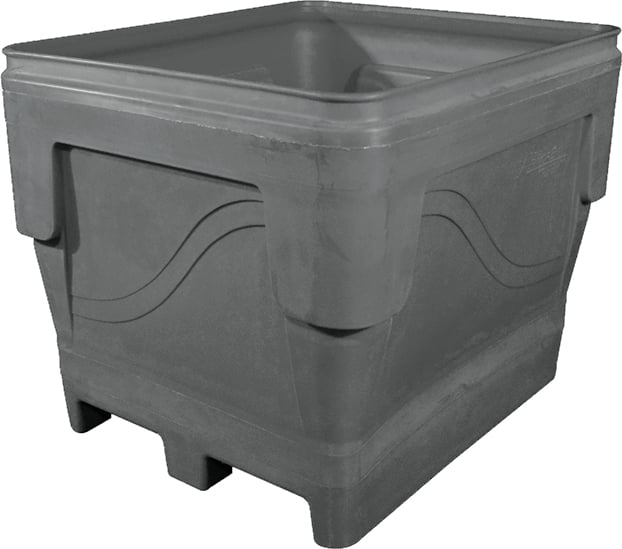 Container Essentials LLC, an independent specialist in sourcing and supplying reusable commercial containers for scrap recycling and industrial customers, has expanded its product lineup with the ArmorBin®.
Chicago, IL, December 11, 2018 – Container Essentials LLC is pleased to announce the introduction of the ArmorBin® to its extensive lineup of reusable commercial containers. To celebrate, they're offering special introductory pricing for a limited time.
The ArmorBin® is available in heights ranging from 33" to 62", and the ArmorBin® fork-entry system has been engineered with a large radius to help deflect fork strikes. The ArmorBin® in the strongest, most durable plastic bin available in today's market.
Features:
2,000 lbs. capacity
Stackable 2 high with optional cover
Designed to nest efficiently
De-nesting ledge prevents bins from sticking together
Specially formulated resin is available to increase impact strength by up to 50%
Stainless Steel hardware is used to fasten optional replaceable bases
Superior pallet design resists wear through
Process creates extra thick corners to resist cracking
Optional drains are available
Company branding and color choices are available
RFID Identification chip tracking system available
We're excited about the ArmorBin®. It's perfect for customers who need exceptional durability, and since it's available as a rotator, it's a good fit for our industrial recycling customers. It's a strong addition to our lineup", said Steve Phelps of Container Essentials.
Full product specifications on the ArmorBin®, as well as the complete Container Essentials product lineup, can be seen at www.ContainerEssentials.com.
Container Essentials LLC, is an independent specialist in sourcing and supplying reusable commercial containers for scrap recycling and industrial customers
Contact:
Steve Phelps, President
Container Essentials LLC
866-289-9181 x101
stevephelps@containeressentials.com
www.containeressentials.com